Mariah Carey: The Adventures Of Mimi Blu-ray Review
Review by Loys Johnson
Video:
Image Entertainment brings the Adventures Of Mimi to Blu-ray with a
1080i
VC-1 video transfer
. The transfer was surprisingly good, I have to admit I wasn't expecting much from Image Entertainment. The black levels were pretty deep for a concert, and the colors tended to stay pretty vibrant. The majority of the concert had the "you are there" feeling that comes with the best Blu-ray concerts. Although it isn't perfect, a few scenes tended to look a bit fuzzy, due to all the smoke and lighting effects during the concert There were jaggies at times, but they were very hard to notice. Mariah Carey shines on Blu-ray overall though, and any fan should not hesitate to pick this up.
9/10.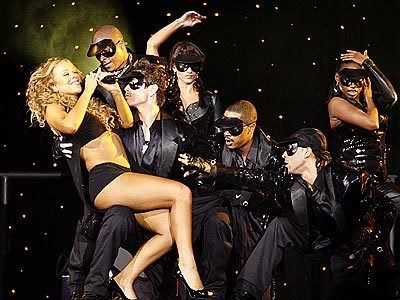 Audio:
Mariah Carey gets a
5.1 PCM Uncompressed
audio track, and it sounds good. It was a bit of a let down though, having heard some amazing concert audio tracks in the past. There wasn't much wrong with it, it serves it's purpose. It just didn't feel as impressive as other releases. It was pretty well balanced, and everything was crystal clear vocal wise. It was good, just not great.
9/10.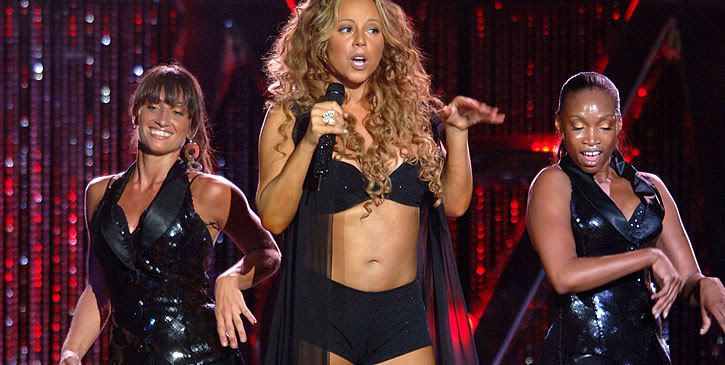 Extras:
Jukebox Feature
Behind-The-Scenes
The Adventures Of Mimi Tour Documentary
Lovers And Haters
Karaoke Feature
Mariah Carey Interactive Disc (Disc 2)
The extras were all pretty decent. The jukebox feature allows you to select a certain amount of songs from her concert, and then it will play in that order. Behind-the-scenes and the Adventures of Mimi Tour Documentary were just interviews with Mariah Carey, background vocal artists, and Mariah explaining her diamond studded ear piece, since the typical black one was too ugly. The karaoke feature allows you to select a song performance, and it will add the karaoke lyrics to it, unless your a fan, I don't see how it would be useful. The interactive disc is nothing more than a gimmicky CD-Rom for your computer, to access free ringtones and bonus offers, as well as a 6 month virtual ticket membership subscription. Everything was pretty short, and not very in detail.
4/10.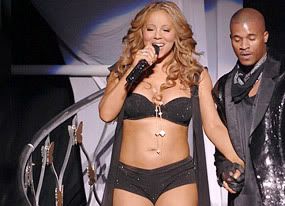 Blu-news Summary:
Image Entertainment presents a solid presentation of the Adventures of Mimi. The video transfer was good, as was the audio track. The extras were pretty bland though. I personally got sick of the concert after three songs, other than a few costume changes, it was very boring. Fans of Mariah Carey shouldn't hesitate though, as you are probably used to her strict ballad rule, and lack of dance involved in her concerts. For those looking for a concert demo disc, there's probably better ones on the market, with overall better performances. I would say "
For Fans Only
" overall though.