The Scorpion King Blu-ray Review
Written by Loys Johnson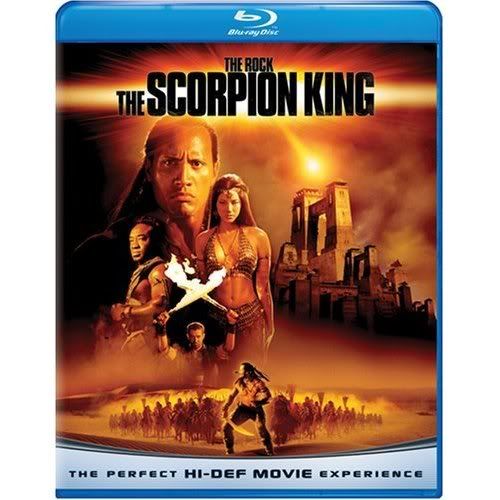 Video:
The Scorpion King comes to Blu-ray with a 1080p VC-1 encode, and it looks great. The colors were vibrant throughout, and there were quite a few scenes that looked better than more than 90% of the video transfers I've seen on Blu-ray, simply amazing and demo material. The movie did look a bit soft at times, but not much more to complain about. It looks great for the source, there was not much I could actually fault the transfer for. Overall I was quite impressed, and while the transfer isn't perfect, it did include some of the best looking scenes I've seen in high-def to date.
9/10.
Audio:
Universal gives The Scorpion King a fantastic 5.1 DTS-HD Master surround track. Like The Mummy movies, the lossless audio was quite a significant upgrade over the HD DVD versions. Dialogue is crystal clear, and the movie's rock-based soundtrack sounds quite impressive. The audio wasn't the best I've heard, but it did sound great, and definitely did it's job in supporting an action movie like The Scorpion King.
9/10.
Extras:
Audio Commentary
Blu-ray Exclusive:
Picture-In-Picture (U-Control)
At first I thought the features were missing that were included on the DVD, but I later found them all included in the U-Control track, which was nice, but it would also be nice to be able to view the extras without watching the movie. It still was not bad by any means though, I found the U-Control feature overall entertaining, but you have to be a fan of the film to really enjoy it. Like I said, the extras were nice, but only accessible via the U-Control feature.
5/10.
Blu-news Summary:
The Scorpion King was a very entertaining movie, with lots of action and adventure. It's definitely up to par with The Mummy and The Mummy Returns in my opinion. The video transfer was great, with only a few soft scenes. The audio was fantastic, and will please fans of the film and Blu-ray format. The extras felt lacking mostly because of it being exclusively in the U-Control feature, but still enjoyable. Overall I would definitely say it's '
Recommended.
'