Elvis: Viva Las Vegas Blu-ray Review
Written by Loys Johnson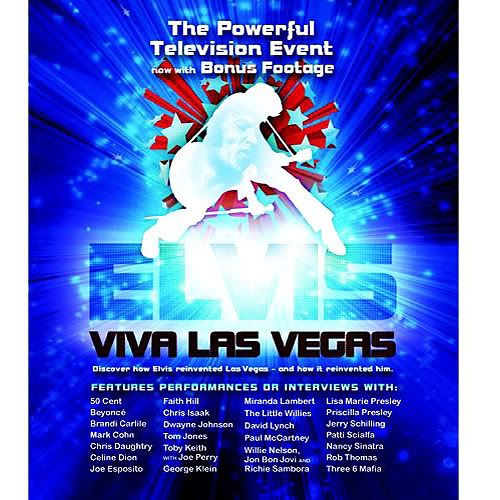 Video:
Elvis: Viva Las Vegas comes to Blu-ray with a
720p VC-1
video transfer, and it looks quite good. The music documentary focuses on the life of Elvis, how he changed Vegas, and how Vegas changed him. The Elvis footage mostly filmed with standard definition cameras, but there were a few moments where the Elvis footage really shined. The documentary also featured interviews/commentary with Priscilla Presley, Jerry Schilling, Joe Esposito, George Klein, Nancy Sinatra, David Lynch, Tom Jones, Chris Isaak, Julie Mundy, Dwayne "The Rock" Johnson, Rob Thomas, Miranda Lambert, Beyonce, and more. The documentary also serves as a tribute to Elvis, with performances by some famous faces today, listed below. The performances are where the Blu-ray presentation really shined.
7/10
overall.
Performances:
Brandi Carlile/Chris Isaak - Don't Be Cruel
Paul McCartney - Heartbreak Hotel
Miranda Lambert - Jailhouse Rock
Brandi Carlile/Chris Isaak - Love Me Tender
Three 6 Mafia - In The Ghetto
Daughtry - Suspicious Minds
Toby Keith/Joe Perry - Mystery Train
The Little Willies (Lee Alexander, Jim Campilongo, Norah Jones, RIchard Julian, and Dan Reiser) - Love Me
Faith Hill - Peace In The Valley
Patti Scialfa (Featuring Nils Lofgren, Steve Jordan, Willie Weeks, and Bruce Springsteen) - Looking For Elvis
Celine Dion - Can't Help Falling In Love
Audio:
While the case lists 5.1 surround sound, it actually is
Dolby TrueHD 5.1
, and it sounds quite good. The feature is a made for TV documentary, so the dialogue wasn't necessarily impressive, it was just what to expect from an episode of Nightline on TV. The performances were where the lossless audio really benefited the presentation, making a better use of the surround speakers. Dialogue/Performances were always nice and clear.
6/10
overall.

Extras:
Additional Interview footage with:
Beyonce
Christ Daughtry
Chris Isaak
Miranda Lambert
Toby Keith
Joe Perry
Patty Scialfa/Nils Logren/Steve Jordan
Brandi Carlile
Rob Thomas
50 Cent
Music Video:
Willie Nelson/Jon Bon Jovi/Richie Sambora - 'Always On My Mind'
The additional interview footage just praises Elvis, and what they have taken from him as performers. The additional performance is a standard defintion performance, upconverted to 720p. While the interviews were all in 720p. Overall there were not many extras,
4/10.

Blu-news Summary:
Elvis: Viva Las Vegas looked surprisingly good for a made for TV documentary, and for
$20 retail (Wal-Mart/Sam's Club Exclusive)
, Don't expect this to be demo material whatsoever, but as a TV documentary, it does it's job. It's definitely a '
Recommended
', at least for any Elvis fans.