Cirque Du Soleil - Corteo Blu-ray Review
Corteo comes to Blu-ray with a
1080p AVC/MPEG-4
video presentation. While the video was not amazing, it was definitely quite good. Colors were vibrant, and detail was very solid as well. The show is done in not brightest situations, make it just a bit less impressive in high-def or standard definition. It looks good overall, and very good considering the circumstances of the show and it's performances.
7.5/10
.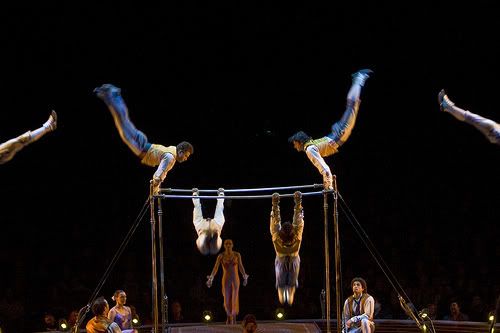 Audio
Dolby TrueHD 5.1
audio is included, and sounds quite strong. The show involves music for the entire show, and it makes an awesome use of the surround speakers to bring the feeling of the show to your home theater. The music I actually found quite creepy, and very chilling, but was very pleased with the presentation. Dialogue when used was very clear as well.
8/10
.
Through The Curtain (45:24) (SD)
A Day In The Life Of Corteo Artists (10:44) (SD)
Filming Corteo (7:38) (SD)
Teatro Intimo (7:52) (SD)
Photo Gallery (3:02) (SD)
BD-Live

Extras were quite decent, with Through The Curtain being an actually interesting feature. So much behind-the-scenes footage was provided, and how the show came together. The rest were quite short, providing insight to the artists days, from the mornings to the actual performances. BD-Live is also included, and at the moment it provides no exclusive content for Cirque Du Soleil - Corteo, it does take you to the Sony Portal, in which you can access trailers and previews of current and upcoming Sony Blu-ray releases.
5/10
.
Blu-news Summary
Cirque Du Soleil is quite the show, with humans performing what seems like the impossible. You can tell so much work went into the show, and definitely leaves viewers amazed and satisfied. I found the music slighly creepy, but just how I find regular circus music creepy. The video presentation is quite good, and audio left me very satisfied. Extras were quite decent as well, and fans of the show will definitely enjoy them. Overall I say '
For Fans Of Live Performance
'.
To Order From Amazon.com, Click Here!
View The Show's Trailer: