Iron Man Blu-ray Review
Written by Loys Johnson
1080p AVC/MPEG-4
video transfer. The presentation is quite impressive, with great colors and strong detail. Black levels were solid for the majority of the film, although a darker scenes were not as deep as I would have liked. The detail in the Blu-ray presentation is stunning, the rocks in the desert, the rough skin, it all comes to life in 1080p. You could pic out every single pebble, every single facial hair, it's superb. I feel for those who are limited only to the DVD version of the film, as they are missing out on quite a bit.
9/10
.
Dolby TrueHD 5.1
Audio is included, and it's demo material all around. The film is filled with so much action, and really shines. Gunshots to explosions all sound incredible, and make awesome use of the surround speakers. Dialogue is always in the front, and always very clear. The film's music adds a lot to the experience as well, bringing lots of excitement to an already great film.
10/10
.
Extras
Disc One:
Hall Of Armor
The Invincible Iron Man (47:04) (HD)
Deleted/Extended Scenes (23:56) (HD)
BD-Live
Disc Two:
I Am Iron Man (1:49:00) (HD)
Wired: The Visual Effects Of Iron Man (27:01) (HD)
Robert Downey Jr. Screen Test (6:03) (HD)
The Actor's Process (4:13) (HD)
The Onion: Wildly Popular Iron man Trailer To Be Adapted Into Full-Length Film (2:38) (HD)
Theatrical Trailers (8:14) (HD)
Galleries:
Concept Art
Tech
Unit Photography
Posters
Credits
Paramount has provided a 2nd disc of extras for Iron Man, and they are all quite good. BD-Live features shoud be fantastic once they go live, although still not live at the moment. The Invincible Iron Man was quite entertaining, and fans of Iron Man should definitely enjoy it. My favorite feature is 'I Am Iron Man', so much went into it, and just very interesting. Fans should be very pleased.
8/10
.
Highly Recommended.
'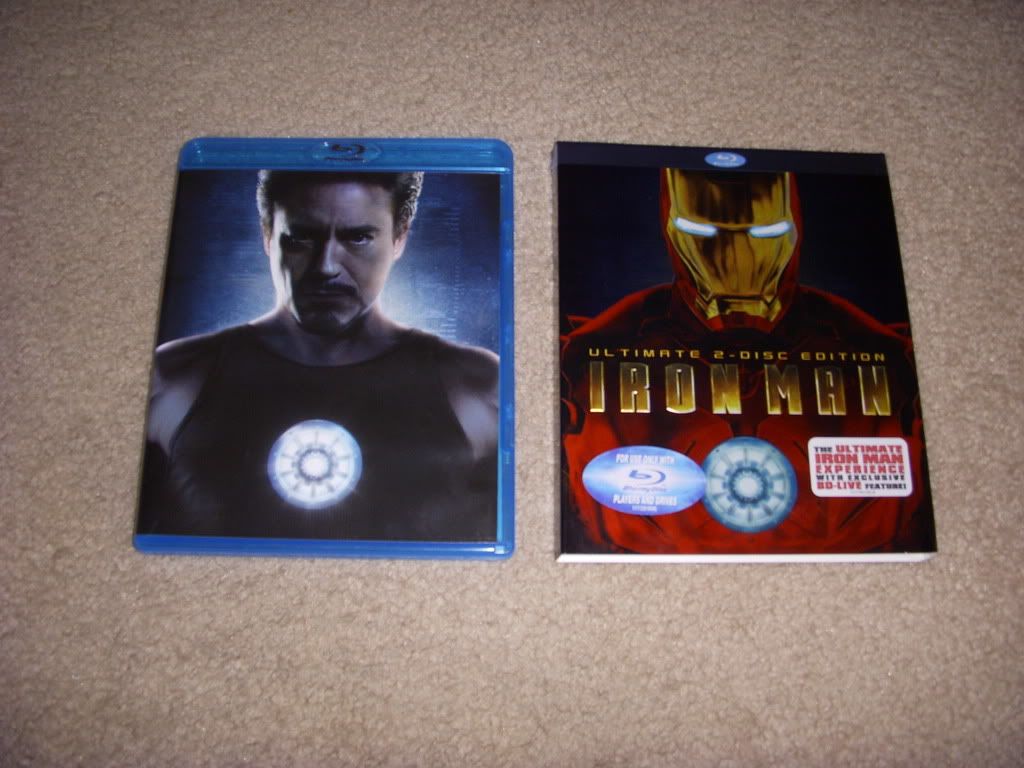 To Order From Amazon.com, Click Here!