1080p AVC/MPEG-4
video transfer for Knocked Up. The transfer is quite good, and I was definitely pleased with it. Colors were quite good, detail quite strong, and black levels quite deep. I found the image to be nice and clean, and free of any major issues. It was not amazing, as the transfer felt a bit flat at times, although not too bad. Knocked Up is a pleasant high-def presentation, and fans will be pleased with both the
theatrical
and
extended
versions.
8/10
.
DTS-HD 5.1 Master Audio
track is included for the release, and sounds quite good. The comedy is extremely dialogue driven, and while it does not demand a lossless track, I'm definitely glad it was included. Dialogue was always very clear, and just as expected. The club scene was quite impressive, not to mention the music playing is great, making good use of the surround speakers. Overall it will not amaze, but considering the film genre, it is quite good.
7.5/10
.
Deleted Scenes (49:19) (SD)
Extended/Alternate scenes (37:35) (SD)
Line-O-Rama (10:12) (SD)
Beard-O-Rama (4:02) (SD)
Gag Reel (11:52) (SD)
Kids On The Loose (5:36) (SD)
Finding Ben Stone (27:54) (SD)
Directing The Director (7:41) (SD)
Gummy: The 6th Roommate (6:42) (SD)
Roller Coaster Doc (5:19) (SD)
Kuni Files (5:28) (SD)
Kuni Gone Wild (5:52) (SD)
Topless Scenes (3:59) (SD)
Stripper Confidential (2:02) (SD)
First Sex On Camera (1:31) (SD)
Video Diaries (28:34) (SD)
Raw Footage (18:12) (SD)
Katherine Heigl Audition (2:43) (SD)
Loudon Wainwright III - Scoring Session (4:47) (SD)
Loudon Wainwright III - Live at McCabe's (18:11) (SD)
Feature Commentary with Writer/Director Judd Apatow, Executive Producer/Star Seth Rogen and Actor Bill Hader
Picture-in-Picture Track (Available in Extended Version only)
My Scenes

Extras are fantastic, and hilarious. The Picture-in-Picture track is quite good as well, providing a lot of good behind-the-scenes, and available exclusively on the extended version of the film. There is almost 50 minutes of deleted scenes, very funny as well. I can't imagine anyone being disappointed with the extras, as they are fantastic.
8.5/10
.
Knocked Up is one of my favorite films of all time, yes it is a comedy, but it is very fun and includes a great cast. I could honestly watch it again every day with out being bored, it is that good. The video and audio presentations were quite good, and left me very pleased. The extras are packed, although in standard definition. Knocked Up is a fabulous Blu-ray release, and is '
Highly Recommended.
'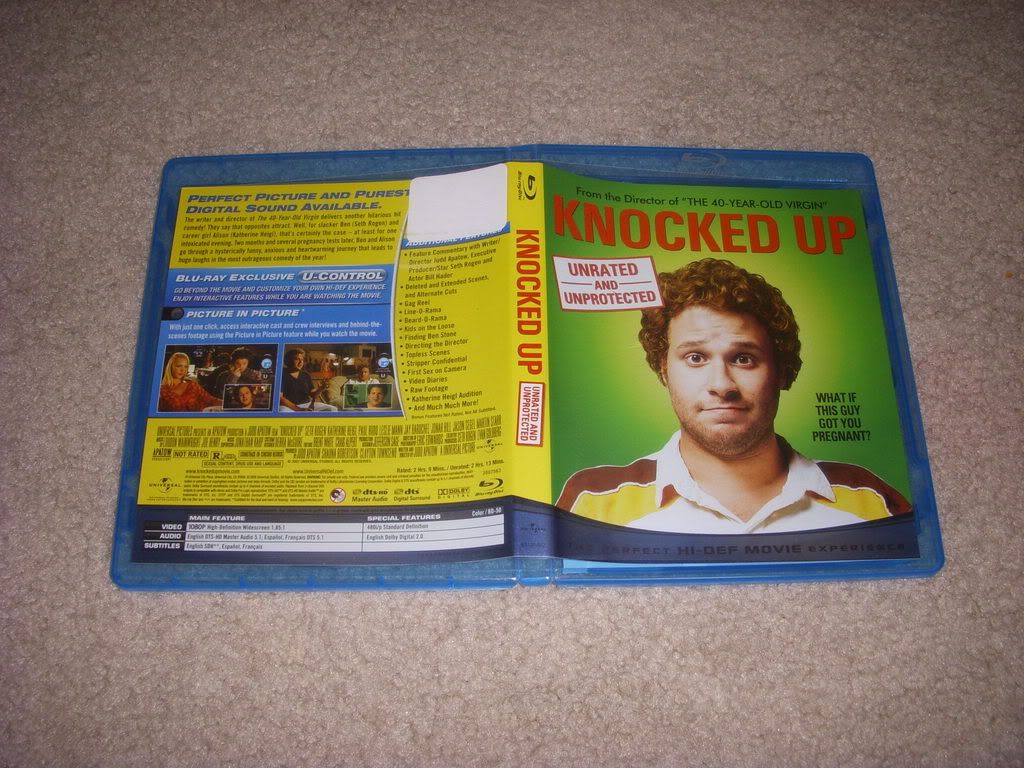 To Order From Amazon.com, Click Here!
Also available: Unrated Comedy Collection
View The Film's Trailer: