The Mist Blu-ray Review
Written by Loys Johnson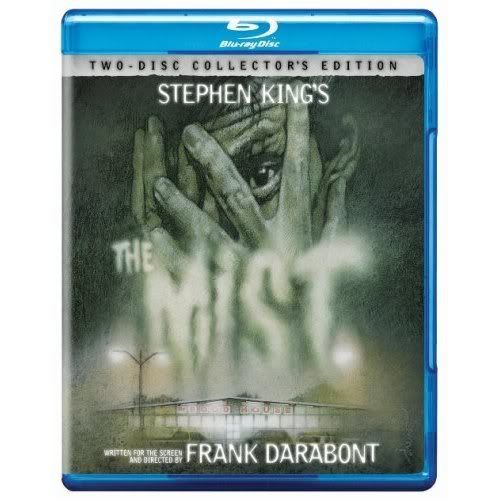 Video
The Mist comes to Blu-ray with two
1080p
AVC/MPEG-4
video transfers, the first disc includes the
color version
, while the second disc includes the
black & white version
. Both are quite impressive experiences, but found the black & white version my preferred choice. The color version certainly looks good, with good detail and solid black levels, and a bit of film grain. The black & white version is included and my preferred choice, as well as the director's intent. the black levels are solid, and is filled with fantastic detail. Either way viewers will be pleased with the product.
8/10
.
8/10
.
Commentary by Writer/Director Frank Darabont
Deleted and Extended Scenes w/optional commentary (14:47) (HD)
A Conversation With Stephen King & Writer/Director Frank Darabont (12:17) (HD)
When Darkness Came: The Making Of The Mist (37:27) (HD)
Taming The Best: The Making Of Scene 35 (12:10) (HD)
Monsters Among Us: A Look At The Creature FX (12:44) (HD)
The Horror Of It All: The Visual FX Of The Mist (16:02) (HD)
Drew Struzan: An Appreciation Of An Artist (7:31) (HD)
3 Webisodes (10:13) (HD)
Trailer Gallery (7:16) (HD)

The extras were very interesting and quite entertaining. The extras include quite a bit of behind-the-scenes, showing how they filmed certain scenes, and how they did certain effects. The conversation with Stephen King and Frank Darabont was also very entertaining, and a highlight for me. Extras were all in high-definition, two thumbs up.
8/10
.
Recommended.
'
To Order From Amazon.com, Click Here!
View The Film's Trailer: