Shrek The Third comes to Blu-ray with
1080p VC-1
video transfer. The colors are simply amazing, everything just popped and leaped off the screen, and rich from start to finish. Detail was stunning, especially during any close-up scenes, the work in detail and texture put in to the film is incredible. Shrek The Third will leave any viewer impressed, and the Blu-ray release is a perfect presentation of the film.
10/10
.
English 5.1 Dolby TrueHD
is included, a bump up in audio over the previous HD DVD release. The audio is fantastic, definitely more than I was expecting it to be. The dialogue in the film is always very clear, and the music makes great use of the surround speakers. It was incredible to hear everything so clearly in the film, from the little details going on in the background coming to life as well.
9/10
.
The Animators' Corner
Shrek's Trivia Track
The World Of Shrek
Shrek's Guide to Parenthood (HD)
Meet The Cast (10:42) (SD)
Lost Scenes (25:54) (HD)
Tech Of Shrek (9:57) (HD)
Donkey Dance (:33) (HD)
Big Green Goofs (1:58) (HD)
My Menus
DreamWorks Animation Video Jukebox (HD)
Merlin's Magic Crystal Ball (HD)
Learn The Donkey Dance (1:42) (HD)
How To Be Green (4:01) (HD)

Paramount has dropped BD-Live for Shrek The Third on Blu-ray, but has managed to include every extra other than Donkey's Coloring Book. Extras are almost all presented in high definition, which receives two thumbs up from me. Many extras will have your kids laughing and entertained, from Big Green Goofs to Shrek's Guide to Parenthood. Very silly extras, but I'm still glad they were included. Shrek's Pop-Up Trivia Track was quite good, and found it to be one of the better extras despite being intended more for kids. Overall Shrek The Third provides quite a supplements package.
7/10
.
Recommended.
'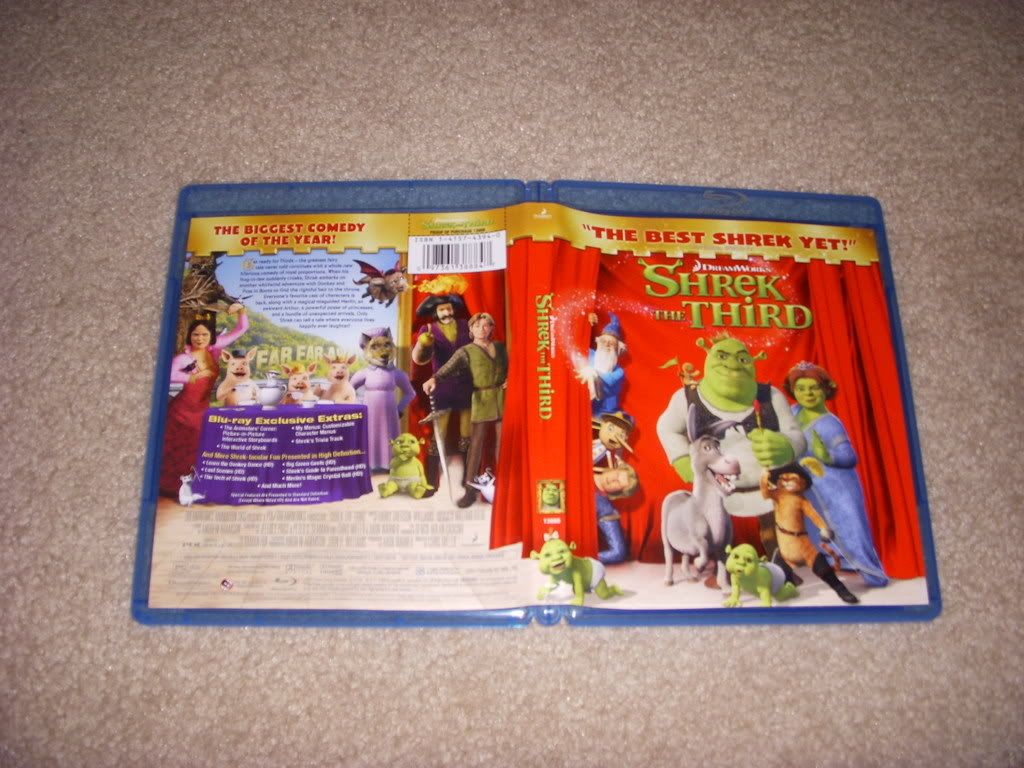 To Order From Amazon.com, Click Here!
View The Film's Trailer: