The Dark Knight Blu-ray Review
Written by Loys Johnson
9/10
.
Warner has included
5.1 Dolby TrueHD
audio track. The track is amazing, and easily competes with many recent Universal Studios DTS-HD MA releases. Dialogue is nice and clear, even in action heavy scenes. The film's surround use is very immersive, from the top notch action sequences to the fabulous score. The track is aggressive, immersive, and totally impressive. There's not much more to say about this demo-material presentation other than WOW!
10/10
.
Extras
Disc 1:
Focus Points:
The Prologue (8:48) (HD)
The New Bat-Suit (4:47) (HD)
Joker Theme (6:18) (HD)
Hong Kong Jump (3:05) (HD)
Judge's Car Blows Up (1:09) (HD)
Challenge Of The Chase, In IMAX (4:04) (HD)
Swat Van Into River (1:44) (HD)
Miniature Unit (1:35) (HD)
Destruction Of Batmobile (2:08) (HD)
Bat-Pod (6:06) (HD)
Helicopter Crash (1:12) (HD)
Truck Flip (4:02) (HD)
MCU Explosion (1:12) (HD)
Lamborghini Crash (1:54) (HD)
Hospital Explosion (6:43) (HD)
Mob Car Flip (:39) (HD)
String Of Sausages Stunt (2:08) (HD)
Upping The Ante (6:40) (HD)
Warner Bros. BD-Live
Disc 2:
Batman Tech (45:59) (HD)
Batman Unmasked: The Psychology Of The Dark Knight (46:02)
Gotham Tonight (46:41) (HD)
Joker Cards Gallery (9:44) (HD)
Concept Art Gallery (7:44) (HD)
Poster Art (1:36) (HD)
Production Stills (11:52) (HD)
Trailers 1 (:57) (HD)
Trailer 2 (2:08) (HD)
Trailer 3 (2:31) (HD)
TV Spot Anarchy (:32) (HD)
TV Spot Alter Ego (:32) (HD)
TV Spot Aggressive Expansion (:32) (HD)
TV Spot One Rule (:32) (HD)
TV Spot Avenge (:32) (HD)
TV Spot Madness (:32) (HD)
Disc 3:
Digital Copy (Compatible with PC and Mac)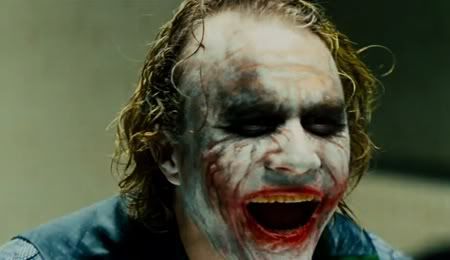 Blu-news Summary
First I would like to say that The Dark Knight is a must for any collection, no matter the format. The film provides a great story and great cast. There really are some standout top notch performances in the film. The Blu-ray is a must for fans of the film (which is many), the release is gorgeous in both video and audio presentations. Extras are great for the most part, although I think the focus points could have been turned into a fantastic Picture-in-Picture track. Warner has also included a digital copy compatible with both PC and Mac. The Dark Knight is a '
Must Own' on Blu-ray.