Fred Clause Blu-ray Review
1080p VC-1
video presentation. The presentation was impressive for the most part. Colors were rich and vibrant, and black levels were nice and deep. The Christmas environments really shine in the presentation, every Christmas light being a beautiful sight to see. Detail is strong, particularly close-up shots and clothing textures. Grain can be seen during the entire film, although never intrusive. There are a few weaker scenes that fill a bit more dull, but I was more impressed than let down by the transfer.
8/10
.
Dolby Digital 5.1 audio
track. I have to say it's getting a bit tiresome to see so many releases being treated this way. This comedy actually has quite a bit of music, and I really think a lossless track would only help bring that more clearly. Dialogue was nice and clear, while the film's music made a good use of the surround speakers, although not as impressive as I had hoped it would be.
6/10
.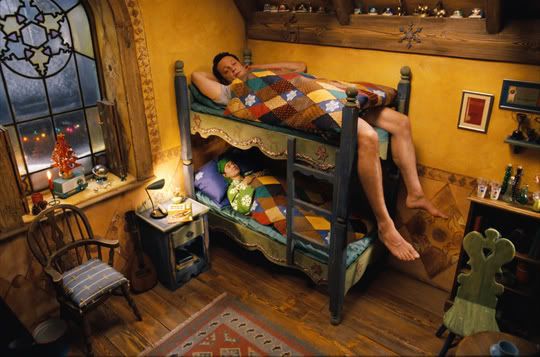 Extras
Commentary with Director David Dobkin
Pause For Clause: Elves Tell All (8:59) (HD)
Sibling Rivalry (9:27) (HD)
Meet The Other Clause (13:04) (HD)
Vince And Paul Fireside Chats (4:10) (SD)
Deleted Scenes (25:30) (SD)
Ludacrismas Music Video (1:36) (HD)
Digital Copy (Compatible with PC ONLY)
Fred Clause: Race To Save Christmas DVD Game
The bonus features are decent, although a bit disappointing. The commentary track is fine, although only big fans of the film should enjoy it. The featurettes are fun, interesting, and the best of the features. The deleted scenes are alright, but you can see why they were deleted. Ludacrismas music video is rapped by Ludacris (Who also plays an elf in the film), the video just features clips from the film. The digital copy is PC only, and not compatible with Mac and iPod devices, why even bother? The DVD game is just like the other recent DVD games, very boring and even kids should leave it alone after 5 minutes.
Fred Clause was a mixed bag for me, there were definitely very funny moments, but the film felt like it dragged on quite a bit. I also think the casting was not the best, but it's a bit late too change that. The story mixes a Christmas film with sibling rivalry, and while it's not the most unique Christmas film, it's overall a fun film. The Blu-ray presentation is quite strong video-wise, but disappointing in the audio department. Extras are also a bit weak, but I'm glad they at least included what they did. Overall Fred Clause is '
A Solid Rental
.'