1080p AVC/MPEG-4
video presentation. The transfer is quite flawless, with colors that just leap off the screen. Colors were bold and vibrant, and looks terrific in high-definition. Black levels were nice and deep. I could not find anything wrong with the presentation, and was left very impressed with the Blu-ray presentation.
10/10
.
7/10
.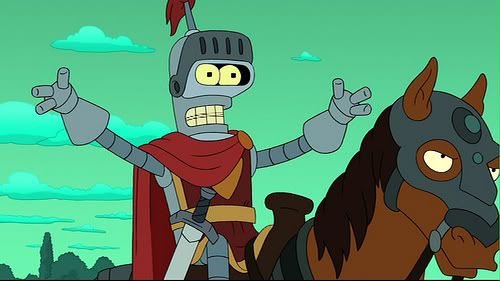 Extras
Commentary by Matt Groening, David X. Cohen, Bily West, John DiMaggio, Tress MacNeile, Michael Rowe, Claudia Katz and Dwayne Carey-Hill.
Storyboard Animatic: Bender's Game, Part One (21:47) (SD)
Futrama Genetics Lab: Cross-breed Your Favorite Characters! (HD)
D&D&F (Dungeons & Dragons & Futurama) (7:00) (HD)
How to Draw Futurama in 83 Easy Steps (7:52) (HD)
3D Models with Animator Discussion (5:03) (HD)
Geysers of Gygax (1:23) (SD)
Deleted Scene: 'Cup or Nozzle?' (1:03) (HD)
Blooperama 2: Outtakes from Bender's Game (SD) (1:50)
Bender's Anti-Piracy Warning (1:11) (HD)
Futurama: Into The Wild Green Yonder - A sneak peek at the next Futurama Epic! (1:14) (HD)
7-Elven (:53) (HD)
The video commentary (Picture-in-Picture) is exclusive to the Blu-ray version, the cast and crew even mention Blu-ray in their commentary about the exclusive feature. The Futurama Genetics Lab is entertaining for about a minute, click on two of your favorite characters and merge them together. I thought Bender's Anti-Piracy Warning extremely funny. Geysers of Gygax is what seems to be an easter egg, but you can't miss it if you want to see the remaining features. Another easter egg is featured on the final page of extras, and accessible by clicking to the right of the extras. Also included in the package are 4 postcards featuring the Futurama characters.
7/10
.
Recommended.
'