Star Wars: The Clone Wars Blu-ray Review
Written by Loys Johnson
Star Wars: The Clone Wars comes to Blu-ray with a
1080p VC-1
video presentation. I have to say I did not find any issues with the video presentation, although it was not as dazzling as I had expected it to be. The transfer definitely looks good, although I had a few issues with the source. While everything was sharp and vibrant for the most part, I felt detail was quite lacking, but most likely due to recent viewings of Kung Fu Panda and Wall-E. Overall the source was in great condition, and looks great overall.
8/10
.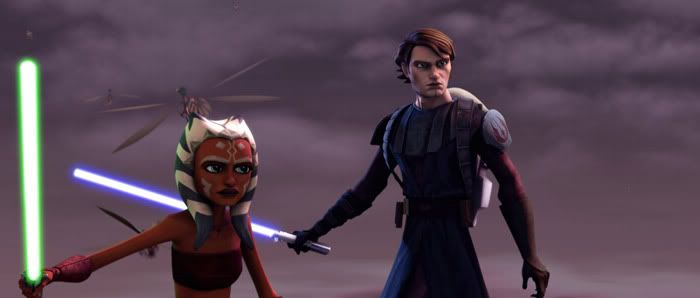 Audio
A
5.1 Dolby TrueHD
audio track is included, and it sounds very good. Dialogue was nice and clear at all times, while the film's music made a light use of the surround speakers. The film's sound effects managed to be a bit more dynamic, and really brought a lot to the experience. The track wasn't amazing, but it did it's job, and a pretty good one at that.
8/10
.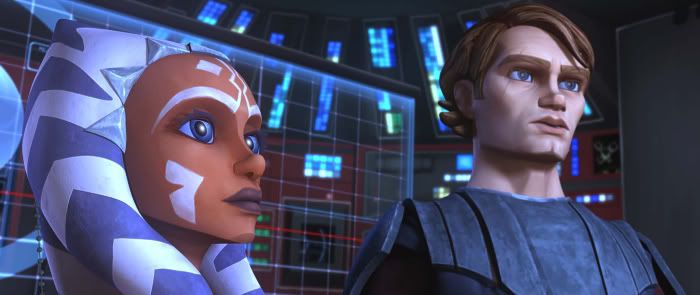 Extras
Video Commentary (1:38:28) (SD)

Behind The Story:
Star Wars: The Cone Wars - The Untold Stories (24:53) (HD)
The Voices Of Star Wars: The Clone Wars (10:00) (HD)
A New Score (10:45) (HD)
Gallery (HD)

Deleted Scenes:
Through The Tanks (:50) (SD)
Rancor Pit (4:03) (SD)
Platform Droid Fight (4:12) (SD)
Cargo Bay (1:46) (SD)

Webisodes:
Introducing Star Wars: The Clone Wars (3:41) (HD)
Epic Battles (2:45) (HD)
The Clones Are Coming (3:27) (HD)
Heroes (3:27) (HD)
Villains (3:58) (HD)
Anakin's Padawan (3:43) (HD)

Trailers:
Launch Trailer (2:16) (HD)
Dark Trailer (2:09) (HD)
Star Wars: The Clone Wars Videogame Trailer (1:10) (SD)

Game:
The Hologram Memory Challenge (HD)

Digital Copy (Compatible with iTunes and Windows Media)

We are presented with far more extras than I had expected. I was particularly surprised to see quite a few high-definition extras. The Webisodes were quite entertaining, and also featured high-def footage of other Star Wars films, which I'm sure fans of the films will enjoy to see. The video commentary was the biggest letdown, as I thought it would be a Picture-in-Picture commentary. The video commentary is actually in standard definition, and plays while the film also plays in standard definition. I can't see too many people getting excited about watching a Blu-ray movie in terrible quality to view the commentary. Also included is a Digital Copy, which I am a big fan of.
6/10
.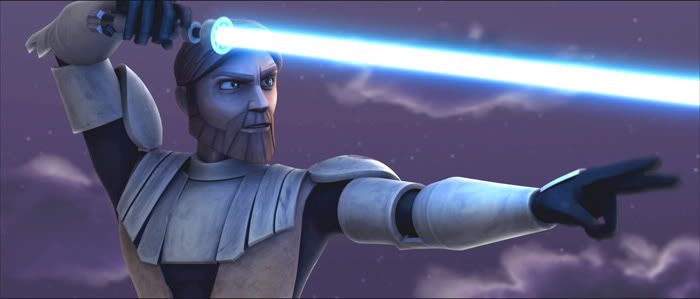 Blu-news Summary
Star Wars: The Clone Wars has been the very first time I have ever seen an entire film having to do with Star Wars. I did watch part of one of the later films, but only about 20 minutes of it. I can't say I disliked it, I just have never found the time to watch any of the films. Star Wars: The Clone Wars was quite the fun film, although felt very made-for-tv quality at the same time.
The video presentation is very good, but it definitely does not compete with recent animated releases. The audio track is quite strong, with clear dialogue and a good use of the surround speakers. There are quite a few extras, many in high-definition as well, that fans will love. Overall though, Star Wars: The Clone Wars is '
A Solid Rental.
'