1080p AVC/MPEG-4
video presentation. The transfer was very pleasing, despite being quite dark. Colors are rich and bold, and black levels are very deep. There is quite a bit of grain, and while clearly visible, it's never intrusive to the film experience. There were a few scenes which were a bit more dull, but never a bad experience. Outdoor scenes were extremely vibrant, and impressive. Detail is very impressive as well, particularly any close-up of Angelina Jolie. The film does have a unique style, but in the end the transfer is free of any issues.
9/10
.
5.1 DTS-HD Master Audio
is included, and it sounds fantastic. This film really comes to life, the action makes a great use of the surround speakers, providing a truly immersive experience. There's always something going on, providing the perfect work out for your surround system. Dialogue managed to stay nice and clear despite the action. I was very impressed! Universal Studios has proven once again why they provide 'The Perfect Hi-Def Movie Experience'
10/10
.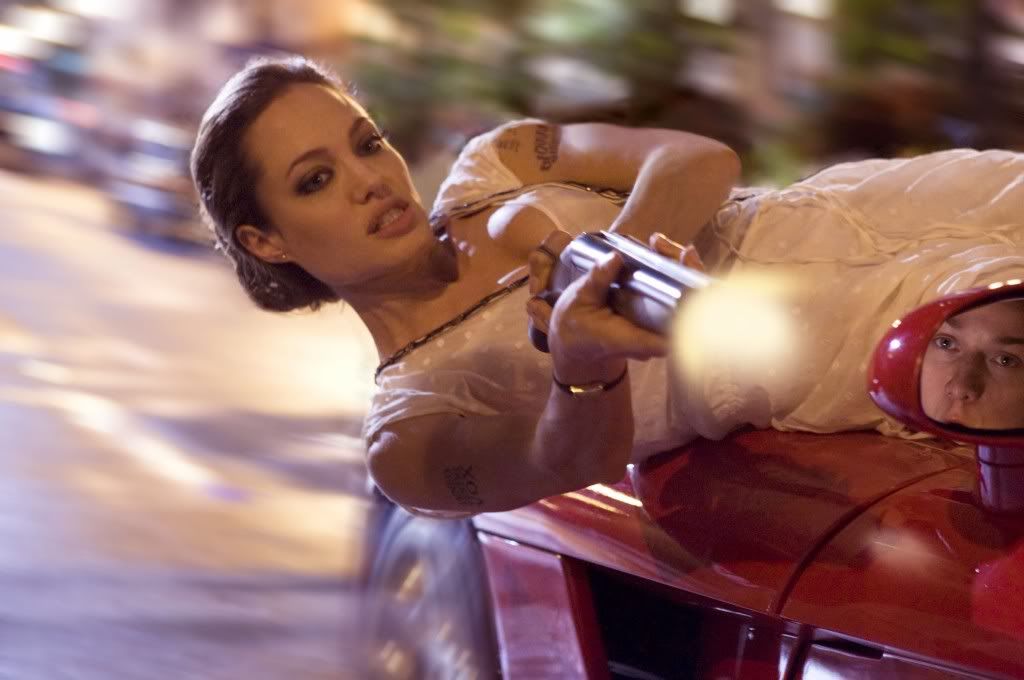 Extras
My Scenes
Alternate Opening (2:38) (HD)
Extended Scene (1:58) (SD)
Cast and Characters (19:59) (HD)
Stunts On The L Train (2:30) (HD)
Special Effects: The Art of the Impossible (8:27) (HD)
Groundbreaking Visual Effects: From Imagination to Execution (8:06) (HD)
The Origins Of Wanted: Bringing the Graphic Novel to Life (8:05) (HD)
Through the Eyes of Visionary Director Timur Bekmambetov (9:05) (HD)
Wanted: Motion Comics (13:55) (HD)
The Making Of Wanted: The Game (10:01) (HD)
U-Control:
Motion Comics
Scene Explorer
Assassin Profiles
Picture in Picture
BD-Live
(Features will launch on December 2nd)
Digital Copy
(Compatible with Mac and PC)
I was very impressed with all the behind-the-scenes footage. It was always entertaining, and a very cool thing to see in a film filled with huge action scenes. Also included is a sneak peek at the upcoming Wanted video game 'Wanted: Weapons Of Fate' for Windows, Xbox 360, and PS3. Several extras also include special codes at the end to unlock special modes in the game, although it won't release until Q1 2009. I was also very happy almost all the extras are in high-def, it's something I hope Universal Studios continues to do.
The U-Control features are pretty neat, with the Picture-In-Picture track being my favorite. It includes cast interviews, as well as thoughts on the overall film and specific scenes. The Motion Comics is the same as the one available in the regular extras, just put in where it fits into the film. Assassin Profiles might be pleasing to hardcore fans, but I found it pretty useless. Scene Explorer allows you to view certain scenes during different stages of creation, from the storyboards, green screen, and final. It also allows you to choose which to view in full screen at anytime.
A Must Own
' Blu-ray release.