The Beyoncé Experience Blu-ray Review
Written by Loys Johnson
1080p VC-1
video presentation. The concert looks stunning, and has some of the best 3D pop I have seen on a concert release. Colors were very vibrant and leaped off the screen, detail was also very strong as well. The film was nice and sharp from start to finish, and black levels were always deep and very solid.
One of my favorite scenes, and something I plan to use as demo material in the future is her performance of 'Flaws And All'. It has one of the best high-def moments I have ever experienced, it's filled with so much detail on the screen at one time. The little marks on her fingers, EVERY little detail on the mic, every strand of hair, every mark on her lips, all while tears roll down her cheeks, my jaw dropped in amazement. While the disc isn't perfect at all times, it's an amazing presentation that should only be experienced on Blu-ray.
9.5/10
.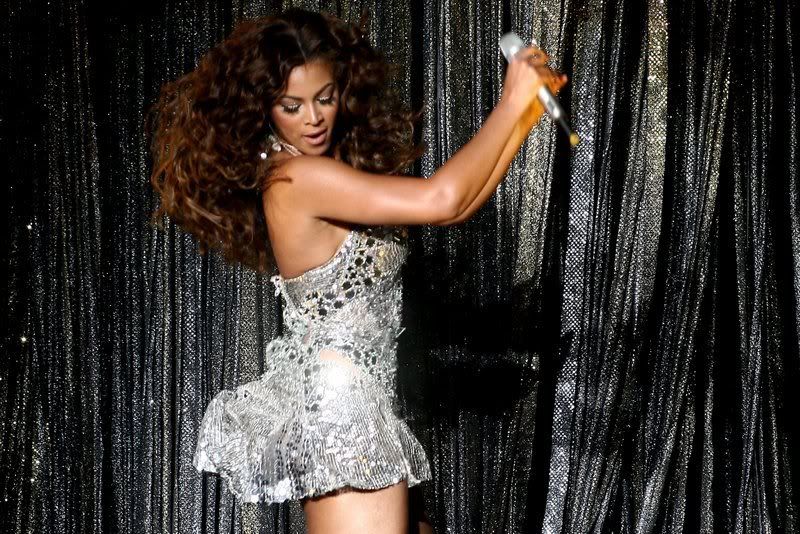 Track List:
Crazy In Love (Crazy Mix)
Freakum Dress
Green Light
Baby Boy (Reggae Medley)
Beautiful Liar
Naughty Girl
Me, Myself, and I
Dangerously In Love (He Loves Me Mix)
Flaws And All
Destiny's Child Medley (Cops And Robbers Intro)
Independent Women Part 1
Bootylicious
No, No, No Part 2
Bug A Boo (H-Town Screwed Down Mix)
Bills, Bills, Bills
Cater 2 U
Say My Name
Jumpin' Jumpin'
Solder (Soldier Boy Crank Mix)
Survivor (Destiny's Child Reunion)
Speechless
Ring The Alarm Intro Skit (Jailhouse Confessions)
Ring The Alarm
Suga Mama
Upgrade U (Feat. Jay Z)
Bonnie And Clyde (Beyoncé's Prince Mix)
Check On It (Special Tour Version)
Deja Vu
Get Me Bodied
Welcome To Hollywood
Deena/Dreamgirls
Listen
Irreplaceable
Beyoncé B'Day Surprise
5.1 PCM Surround track
as well as a
PCM 2.0 Stereo
track. The concert experience really comes to life with the audio experience. The pop/urban/r&b music really shines with the lossless presentation. Vocals are nice and clear, and the audience never gets too intrusive to the performances. The track is extremely impressive, and there is really not much to complain about. The audio is very dynamic, and quite immersive as well. Beyoncé fans and concert fans in general will be very pleased.
9.5/10.


Interactive Jukebox allows you to select your favorite tracks and put in a playlist, allowing you to play only your favorite songs, and skipping the mediocre ones. Nothing else is included as far as extras.
The Beyoncé Experience is an awesome show. She's a triple-threat performer, she can sing, dance, and even act. Her concert is fun,and pure entertainment. There is never a dull moment, possibly experienced in concerts from Shakira or Mariah Carey. There is always something new on the stage, whether it's her costume, lighting, props, and more. She has one of the most powerful and beautiful voices of today, and will have a successful career for her entire life.
The Blu-ray release is amazing, providing some of the strongest concert high-def footage I have seen, and provides a wonderful audio track as well. Extras are a bit bare, but it's still a cool feature that is included. Overall The Beyoncé Experience is '
A Highly Recommended Concert
' and a '
Must Own
' for the fans.