The Chronicles Of Narnia: Prince Caspian Blu-ray Review
Written by Loys Johnson
1080p AVC/MPEG-4
video presentation that is sure to impress. Detail s spectacular, and colors are extremely rich and vibrant. Black levels were always deep. The special effects translate very well to the high-definition presentation, and are filled with impressive detail as well. The film's scenery is very beautiful, breathtaking even. Nobody could be disappointed with the transfer, as it provides some of the best high-def moments of the year.
10/10
.
7.1 DTS-HD Master Audio
track for the release, and it sounds fantastic. The film's score was beautiful, and made use of every speaker. Dialogue was nice and clear, and even during the battles I felt it was just right. The battle scenes were the most impressive audio moments, with every little detail sounding so clear, with the sound of arrows being shot coming from every direction. The track started off as demo material, and ended as demo material. There's nothing bad I can say about this spectacular audio presentation. I also hope Disney begins to make 7.1 a more and more common thing as Blu-ray progresses.
10/10
.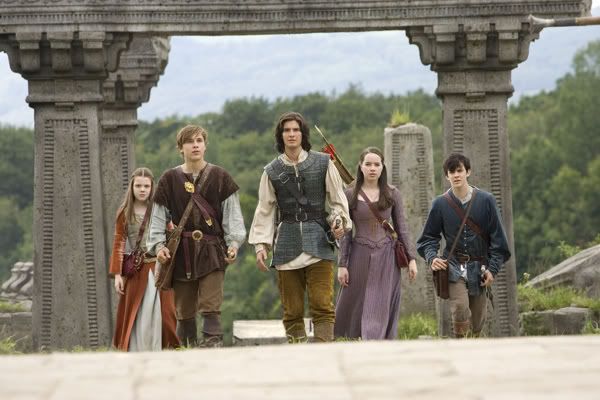 Extras

Disc 1:
Audio Commentary
Circle-Vision Interactive: Creating The Castle Raid (HD) - with Introduction (2:01) (HD)
BD-Live: Movie Chat, Movie Challenge, Movie Mail, and Movie Rewards.
Disc 2:
Inside Narnia: The Adventure Returns (34:45) (HD)
Sets Of Narnia: A Classic Comes To Life (23:44) (HD)
Big Movie Comes To A Small Town (23:19) (HD)
Previsualizing Narnia (10:09) (HD)
Talking Animals And Walking Trees: The Magical World of Narnia (4:51) (HD)
Deleted Scenes (11:15) (HD)
The Bloopers Of Narnia (3:06) (HD)
Secrets Of The Duel (6:46) (HD)
Becoming Trumpkin (4:48) (HD)
Warwick Davis: The Man Behind Nikabrik (11:08) (HD)

Disc 3:
Disney-File Digital Copy (Compatible with PC and MAC)
The DVD from the start was no competition to the Blu-ray. I sampled all different types of scenes in the film to compare, and just as expected, the Blu-ray ruled in every aspect. The video presentations can not even compare, the difference is quite huge. Audio is where I was even more impressed, the 7.1 DTS-HD Master audio track on the Blu-ray release was so beautiful, while the DVD felt dull when compared. Extras are the same for the most part, other than a few exclusive features, such as BD-Live, which is a very welcomed feature. If you purchased the DVD, and want to upgrade to Blu-ray, do it with out hesitation.
The Blu-ray presentation is perfection, with some of the best video and audio on Blu-ray this year. The extras are also quite expansive, and I'm very happy to say that they are all in high-definition as well. Disney just keeps impressing with their fantastic Blu-ray releases. Prince Caspian on Blu-ray is definitely recommended, and a '
Must Own
' for those looking for an impressive Blu-ray release.