Eagle Eye Blu-ray Review
Written by Loys Johnson
31.4 GB


Eagle Eye comes to Blu-ray with a fantastic
1080p AVC/MPEG-4
video presentation. The film has a very natural look, and while the colors are rich, they aren't exactly vibrant. Detail was stunning from start to finish, and film grain was subtle for the most part. The film does have a bit of a muted style to it, that doesn't exactly make you think Blu-ray, but all considered it looks very very good.
9/10.


5.1 Dolby TrueHD
audio track is included, and also is very impressive. The film is intense from beginning to end, and any scene with even a bit of action really shines. The music really gave the film an epic feel, and also made a nice use of the surround speakers. Dialogue was clear for the most part, although there were a few moments where it felt a bit too quiet when compared to the overall track. Overall though, I was very impressed and very pleased, it just wasn't quite perfect.
9/10.


Extras
Deleted Scenes/Alternate Ending (4:38) (HD)
Asymmetrical Warfare: The Making Of Eagle Eye (25:32) (HD)
Eagle Eye On Location: Washington, D.C. (5:58) (HD)
Is My Cell Phone Spying On Me? (9:14) (HD)
Shall We Play A Game? (9:22) (HD)
Road Trip: On Location With The Cast And Crew (3:05) (HD)
Gag Reel (7:00) (HD)
Photo Gallery
Theatrical Trailer (2:35) (HD)
The Blu-ray release is great, with very impressive video and audio. The extras are quite entertaining as well, and the behind-the-scenes material was very cool to see. Overall, Eagle Eye on Blu-ray is '
Worth A Look.
'
To order From Amazon.com, Click Here!
Additional Screenshots:
Additional Cover Art: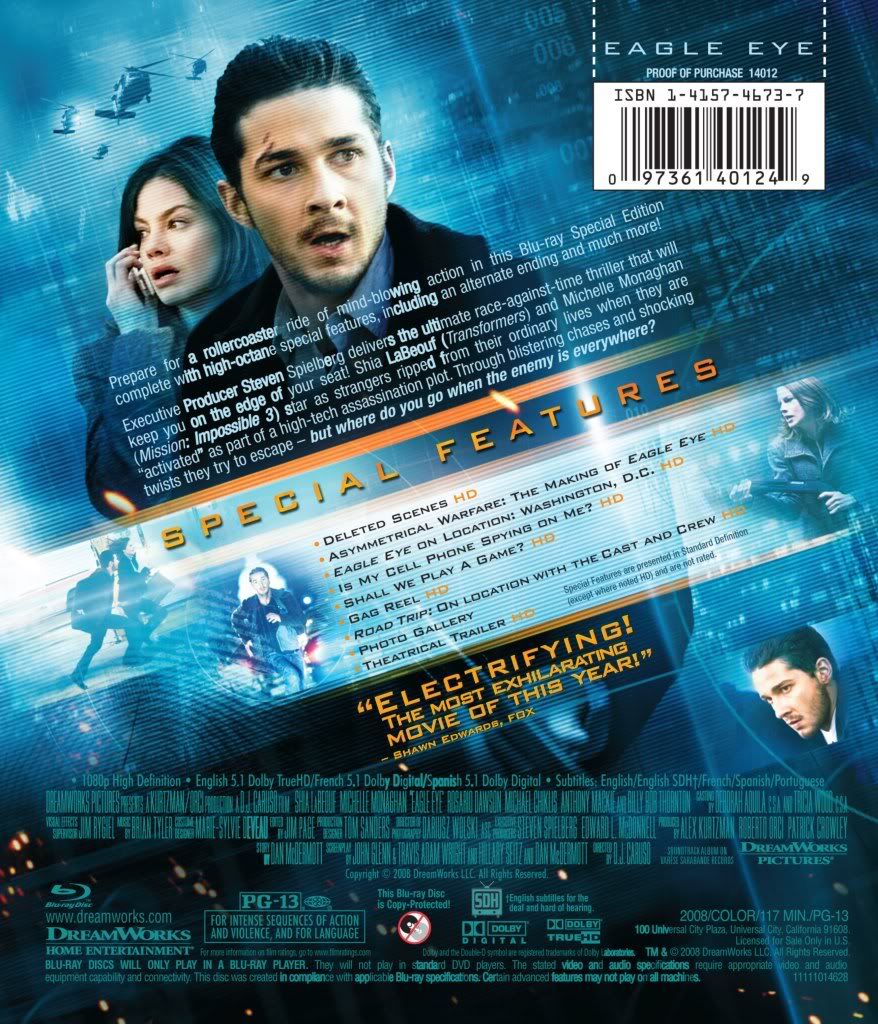 To Order From Amazon.com, Click Here!