Ghost Town Blu-ray Review
Written by Loys Johnson
Ghost Town comes to Blu-ray with a
1080p AVC/MPEG-4
video presentation. The video features great colors, each bold and vibrant. Black levels were quite good as well, although felt a bit weak during a few scenes. Detail was strong, and the film was nice and sharp overall.
8.5/10.
5.1 Dolby TrueHD
audio track is included, and sounds just as I had expected. The romantic comedy sounds very nice for the most part. Dialogue was nice and clear at all times, staying front and center. The film's score expanded more into the surround area, but very lightly. This track won't blow you away, but it sounds very nice for the type of film that it is.
7.5/10.


Extras
Commentary by David Koepp and Ricky Gervais
Making Ghost Town (22:40) (HD)
Some People Can Do It (6:21) (HD)
Ghostly Effects (2:01) (HD)
Ghost Town was a nice surprise, and while I did find it overly obnoxious for my liking at first, I really ended up enjoying it very much. The film is very clever, and I found myself laughing throughout. I think the acting was great, particularly the performance from Ricky Gervais. It's a film I can definitely see myself watching again, it's a film that is easy to sit down and watch at anytime, and it's just a lot of fun.
The Blu-ray presentation is very good, featuring an impressive video presentation, and decent audio. There are not many extras, but what was included was entertaining, anything behind-the-scenes is great, and all in high-def as well. I would have no problem saying that Ghost Town is definitely '
Recommended.
'
Additional Packaging: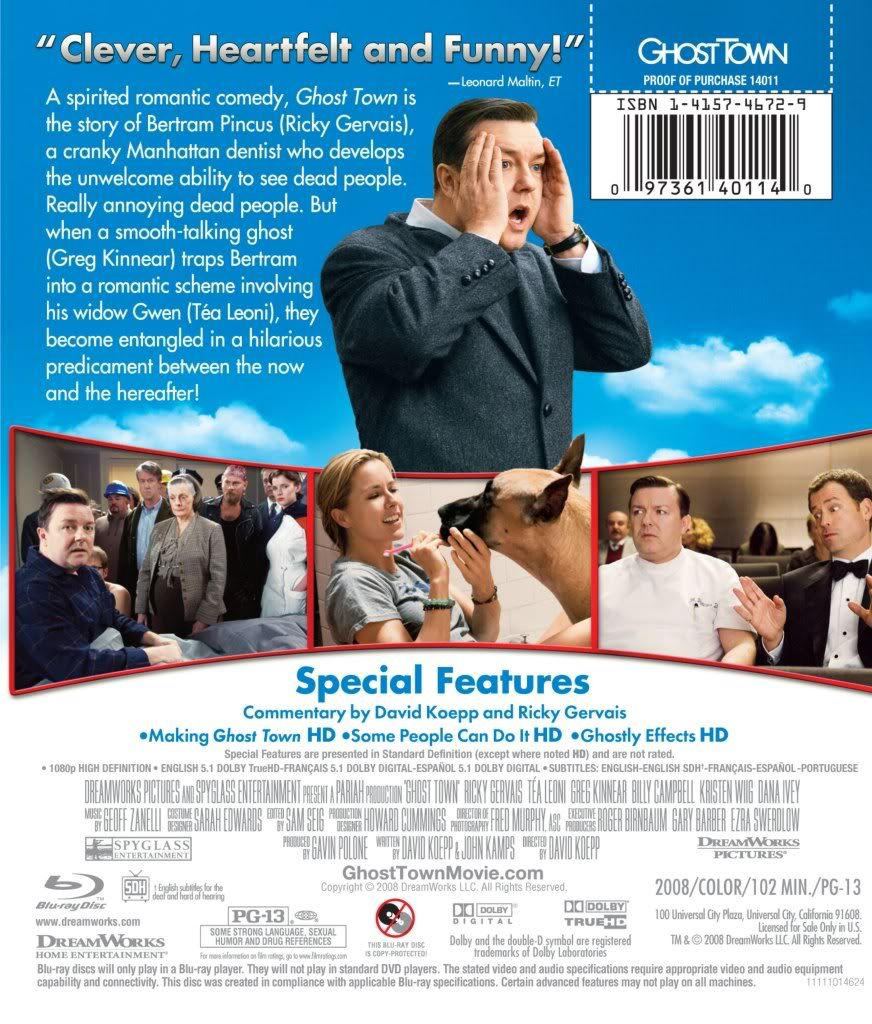 To Order From Amazon.com, Click Here!