1080p AVC/MPEG-4
video transfer. I have to say, when the film first started I was quite disappointed, as it was very soft and very dull. After the first 10 minutes or so, things definitely picked up. The film has always been soft, and the Blu-ray is no different of course. That's not to say there isn't an improvement. Colors are definitely more vibrant, and detail is also quite good as well. I was most impressed on the upgraded sharpness of everything on screen, when compared to the DVD version. Detail on clothing was also very impressive, and was usually sharp even when during the most soft scenes. The film is clean for the most part, although a few scenes do have a bit of dirt and speckles.
The differences were actually more impressive when I compared it to the DVD, as their is definitely an improvement in every aspect or the presentation. I think fans going into it will realistic expectations will definitely be very happy with the Blu-ray release. Those looking for just more high-def eye candy, this won't be the way to go, but I think Fox has done a great job with the presentation, and it's never looked better.
7.5/10
.
5.1 DTS-HD Master Audio
track, and it was surprisingly more aggressive than I expected. Dialogue stays front and center, always clear. The film's wonderful score makes a good use of the surround speakers, while other music featured in the film is very good as well. The audio isn't going to blow your socks off, but for a comedy it was very good.
8/10
.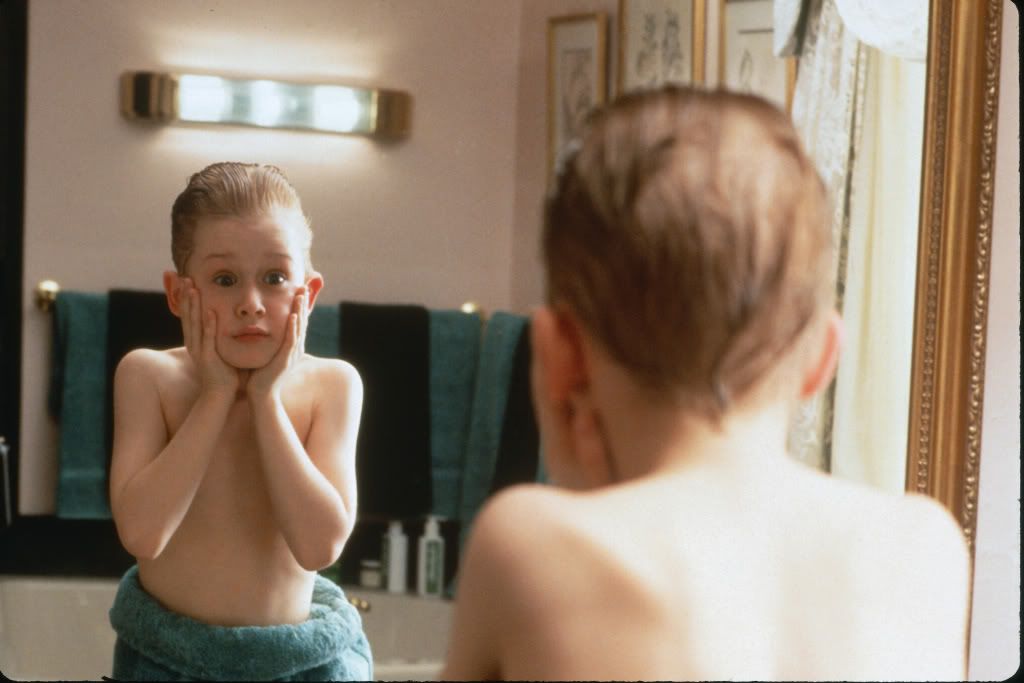 Extras
Commentary by Director Chris Columbus and Macaulay Culkin
1990 Press Featurette (3:52) (SD)
The Making of Home Alone (19:25) (SD)
Mac Cam: Behind the Scenes with Macaulay Culkin (4:46) (SD)
How to Burglar-Proof Your Home: The Stunts of Home Alone (7:04) (SD)
Home Alone Around the World (3:53) (SD)
Where's Buzz Now? (3:03) (SD)
Angels with Filthy Souls (2:06) (SD)
Deleted Scenes/Alternate Takes (15:04) (SD)
Blooper Reel (2:04) (SD)
Fox on Blu-ray - The Simpsons Movie trailer (1:53) (HD)
Home Alone is one of my favorite films to watch around the holidays, and I consider it a classic. The film is very funny, and very enjoyable. The cast is very good, especially Macaulay Culkin as Kevin. While his acting career isn't so great now, I couldn't imagine a better kid for the role. The Blu-ray presentation is definitely an upgrade, and particularly impressive when compared to the DVD as far as detail, color, and sharpness goes. You have to go in with realistic expectations,, those expecting serious eye candy will most likely be disappointed. Fox has done a great job considering the source, and would not hesitate to say it's '
Recommended.
'
To Order From Amazon.com, Click Here!
Also make sure to check out the special offer on Amazon.com when you scroll down a bit on the page, which knocks off an additional $5 when ordering with Jingle All The Way on Blu-ray.