1080p AVC/MPEG-4
video presentations for all
14 episodes
(Part 2, is actually part 2 and 3) of the season. Lost is the best looking show on television, and should only be viewed in high-definition. The presentation of the episodes are fantastic, and very impressive. Detail is stunning, particularly any close-up reveals detail you can't imagine. Colors are vivid and vibrant, and really leap off the screen, it is set on an island after all. There seems to be some minor edge enhancement at times, but it was never too bad. There is so much right with the presentation, that it's hard to stay upset about anything. Lost on Blu-ray is a high-def treat.
9.5/10
.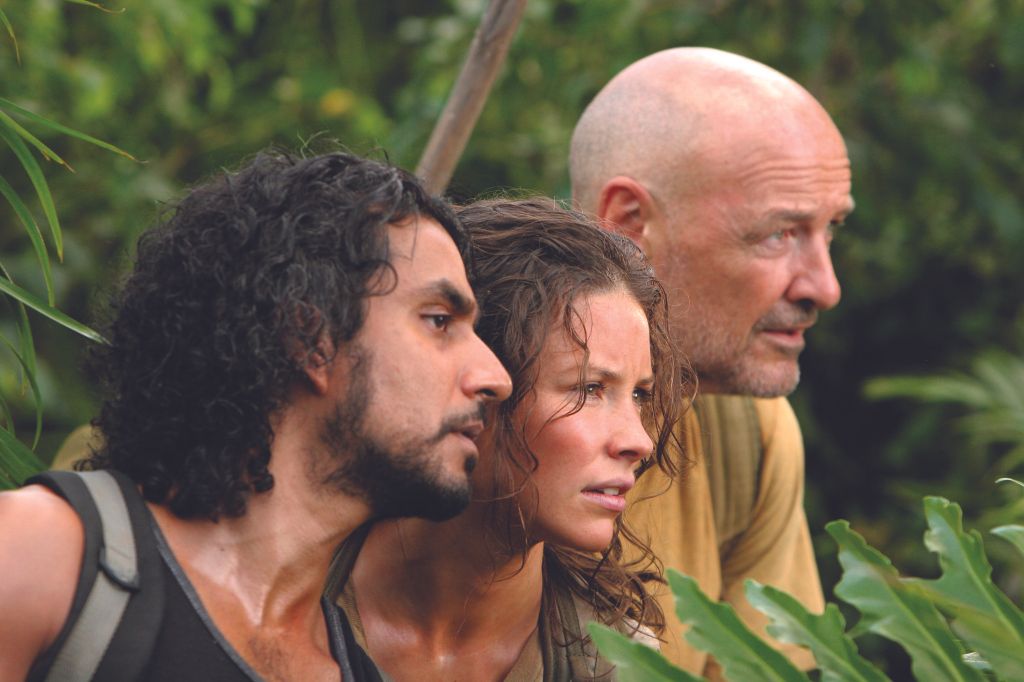 Disc 1:
The Beginning Of The End
Confirmed Dead
The Economist
Disc 2:
Eggtown
The Constant
The Other Woman
Ji Yeon
Disc 3:
Meet Kevin Johnson
The Shape Of Things To Come
Something Nice Back Home
Cabin Fever
Disc 4:
There's No Place Like Home (Part 1)
There's No Place Like Home (Part 2)
Every episode of Lost features an
English 5.1 Uncompressed PCM audio track
. The audio was very impressive, especially considering it's a weekly television program. The film's score is magnificent, and makes a nice use of the surround speakers. The dialogue was always clear, and I never found it to be too quiet. The environments really come to life, with even very little details sounding clear. The sound of the ocean was also very beautiful, fans should be very pleased.
9/10
.
Extras
Disc 1:
Audio Commentary: The Beginning Of The End
'Lost In 8:15' Recap (8:12) (HD)
SeasonPlay
Disc 2:
Audio Commentary: The Constant
Audio Commentary: Ji Yeon
SeasonPlay

Disc 3:
SeasonPlay

Disc 4:
Audio Commentary: There's No Place Like Home (Part 2)
SeasonPlay
Lost On Location (41:54) (HD)
The Island Backlot: Lost In Hawaii (17:53) (HD)
The Right To Bear Arms (11:15) (HD)
Soundtrack Of Survival: Composing For Character, Conflict & The Crash (26:21) (HD)
Lost Bloopers (3:22) (HD)
Deleted Scenes (9:11) (HD)
Course Of The Future: The Definitive, Interactive Flash Forwards (HD)
The Oceanic Six: A Conspiracy Of Lies (21:16) (HD)
The Freighter Folk (12:40) (HD)
Offshore Shoot (7:50) (HD)
Lost: Missing Pieces (Mobisodes) (31:22) (HD)

I was very excited to see the behind-the-scenes features, it's really interesting to see how everything is done on the show, and in high-def too. Lost On Location explains why they chose to film in Hawaii, and what places they use in Hawaii as other cities as well. It's a very fun and informative extra, that I suggest everyone makes sure to watch it. The bloopers were also quite funny, and it's awesome to see how the actors can transition from being in such a serious scene to laughing like crazy, and back again. I was very happy that everything is presented in high-definition, and hope other studios take notes from recent Disney Blu-ray releases.
The Blu-ray release is the only way it should be experienced, it's that good. The amount of detail, and everything else, is so much above DVD to even compare. Extras are very good as well, and all in high-def too. Fans who need a bit of catching up, also included is a Lost in 8:15 recap of the past seasons. Lost Season 4 on Blu-ray is '
Highly Recommended
,' and of course a '
Must Own
' for current fans.