Ghost comes to Blu-ray with a
1080p AVC/MPEG-4
video presentation. The disc is definitely a mixed bag at times, but I found it to be overall very good. Detail and overall sharpness was a definite improvement over the DVD release. Colors were also quite good, when the scenes allowed. Ghost has quite a few darker scenes, that don't translate as well to high-def. The film definitely shows it's age, but I found the film to have quite a bit of pop despite being soft at times. There are a few specks here and there, but not too much to really get upset about. Paramount has done a very good job on the Blu-ary release, despite the uneven source, and the film size alone should show there was no slacking as far as the actual encode goes.
7.5/10.


A
5.1 Dolby TrueHD
audio track is included, and sounds decent. The film is very front heavy, never really expanding much into the surround speakers. Dialogue was usually quite clear, although there was a moment or two I found difficult to understand, but that is probably more of an issue with the source than anything. The film's score was definitely stronger on the front speakers, and lightly made use of the surround speakers. I was surprised by the film's sound effects though, such as moving cars, etc, it all sounded quite clear despite being limited to the front of the room overall. The track won't impress, but it's quite good.
7.5/10.
Extras
Commentary by Director Jerry Sucker and Writer Bruce Joel Rubin
Ghost Stories: The Making of a Classic (13:06) (SD)
Inside the Paranormal (8:35) (SD)
Alchemy of a Love Scene (6:16) (SD)
Cinema's Great Romances (19:45) (SD)
Theatrical Trailer (2:26) (HD)
Photo Gallery
The Blu-ray release is an accurate portrayal of the source, and not much could be better with out a complete remaster. The encodes are very nice, and look and sound are definite improvements. We get the same extras featured on the DVD release as well. Ghost may not be for everyone, but I would say it's '
Worth A Look.
'
Additional Packaging: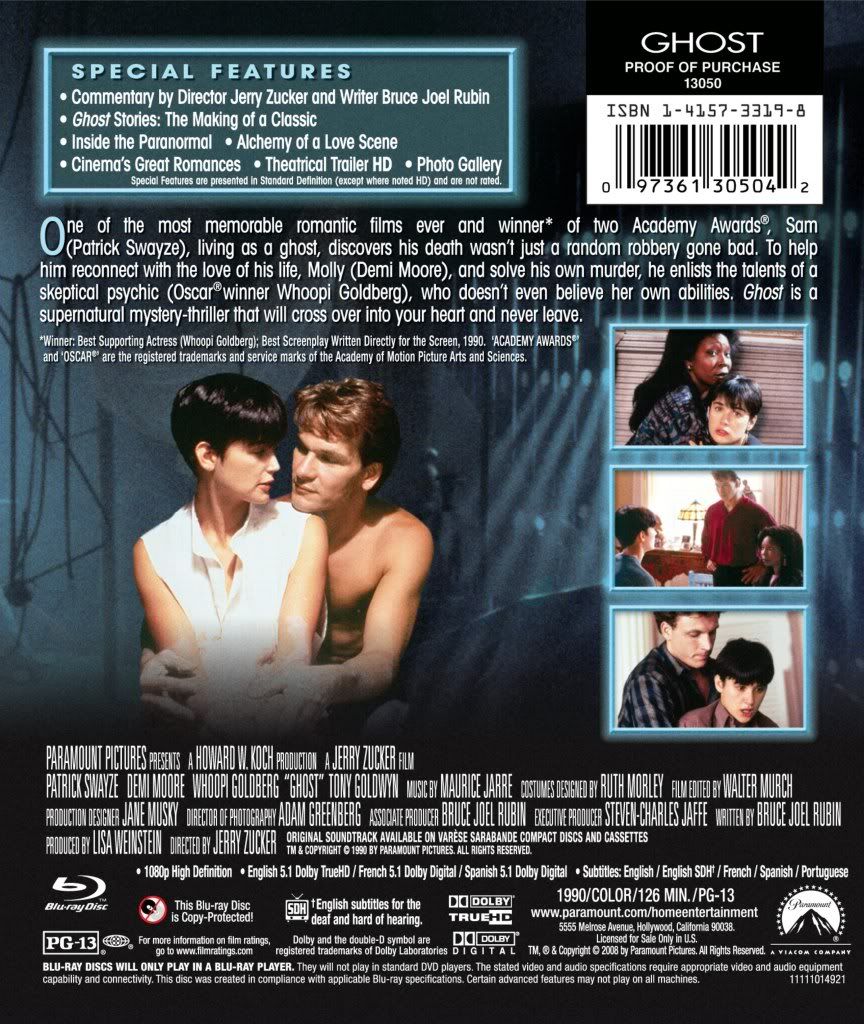 To Order From Amazon.com, Click Here!