The Notebook: Limited Edition Giftset Blu-ray Review
Written by Loys Johnson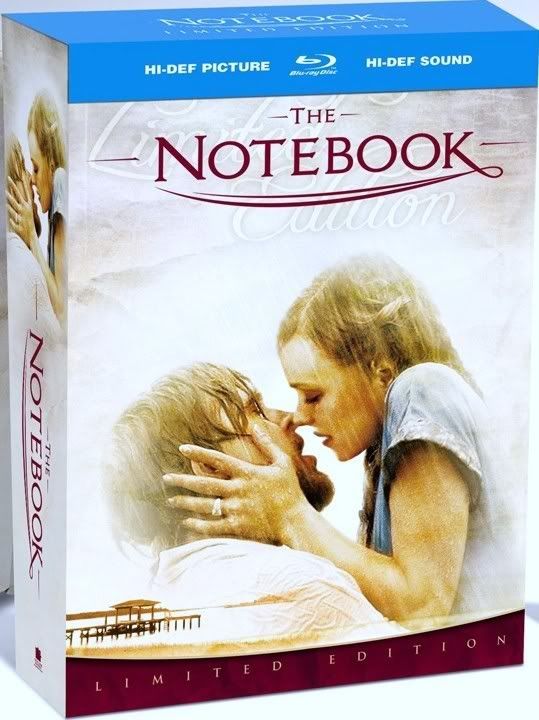 Disc Size:
30.9 GB
Film Size:
24.9 GB
Film Rating:
PG-13
The Notebook comes to Blu-ray with a 1080p VC-1 video presentation. The film looks fantastic for the most part, with vivid colors and solid black levels. Detail was very impressive as well, and overall sharpness was very nice. The only complaint I have, is that there was a hint of edge enhancement throughout the presentation, but it actually wasn't too bad. The film looks greaet overall though.
8/10.
Audio

A
5.1 Dolby TrueHD
audio track is included, and sounds quite beautiful. Dialogue stays front and center, clear at all times. The film's music expands into the surround area, as does the environment of the film. The war scene in particular is quite aggressive, and very impressive. The track is not going to be mind-blowing, but it sounds very nice for what it is.
8/10.
The Packaging

Commentary with Director Nick Cassavetes
Commentary with The Notebook novelist Nicholas Sparks
All In The Family: Nick Cassavetes (11:38) (SD)
Nicholas Sparks: A Simple Story, Well Told (6:36) (SD)
Southern Exposure: Locating The Notebook (11:33) (SD)
Casting Ryan & Rachel (4:06) (SD)
Rachel McAdams Screen Test (3:35) (SD)
Deleted Scenes (Available with optional commentary by Editor Alan Heim) (28:32) (HD)
Theatrical Trailer (2:18) (SD)

The Blu-ray release is very good as well, with nice video and beautiful audio. There are a number of extras, and all entertaining as well. The film isn't for everyone, particularly those who do not enjoy love stories. To anyone who is a fan of romantic films, the Blu-ray release of The Notebook is 'Highly Recommended.'
To Order From Amazon.com, Click Here!